Legends of CI- Kelly Gaussaint
What do you want your legacy to be here in CI?

"She was kinda cool, ig, idk"
The Renaissance Woman of CI: Valedictorian of the Class of 2023, President of Student Council, President of Senior Class, Vice President of National Honor Society, Secretary of Islip Town Branch's NAACP Youth Council, and a heck of a lot more. The woman is everywhere, making people laugh, encouraging them, leading them, and so much more. A lot of people look up to her, not just for being the ideal student, but for being a good role model and person. In Legends of CI, we are highlighting and celebrating the people of the community that make CI great. How could you not start the series by talking about the person who is everywhere?
Who is Kelly Gaussaint?
"Why would you ask me that? *laughingly* Um… Kelly Gaussaint is a weirdo. Kelly Gaussaint does not belong on Earth, I don't think. I think her soul belongs elsewhere… I think Kelly Gaussaint is just a culmination of everything that she loves."
Kelly is originally from Central Islip, attending the ECC in Kindergarten and  Cordello in first grade. However, her parents wanted a different experience for her, so they enrolled her into Ivy League School in Smithtown, causing her to spend most of her time in private school and not really hanging out with CI kids. In seventh and eighth grade, Kelly was at Saint Patrick's Catholic School in Bay Shore, and it wasn't until the ninth grade that she returned back to CI.
"When I came back here after spending so much time in private school, I didn't expect to actually find a true family within Central Islip… and then I did."
Kelly is quick to point out the greatness of CI: the people. Kelly, though she spent most of her childhood far from CI, will never forget how accepting the people are here, saying that the people here "just had so much love for one another." However, Kelly also believes there are several things we can do to improve this town. 
"The best way to improve CI is to make sure the kids feel loved in elementary schools first. Take care of the children first. Go to Cordello, go to Morrow, and make sure those kids know that there are people for them to help them, so that once they get here, they are on track to become better people."
The woman of many strengths must also have many hobbies. She loves watching movies and TV shows,  and at the time of this interview she was rewatching Boy Meets World. She also loves writing poetry and listening to music. She is also interested in crystal collections, food, fashion, reading, creative writing, and painting. 
What are your goals in life?
"I don't want to have a lot of regrets. To do everything and anything."
Kelly has several goals she wants to achieve in this lifetime. As she says, she wants to try to do as much as she can to learn, to grow, and to have fun. She also wants to go everywhere and see everything she can. For future career, she wants to start her own tech startup and business to spread opportunities for technology all over the world, even to places that don't have accessibility to devices. She is also aiming to write books and stories over her lifetime, regardless of what the future holds for her. 
What were some trials and tribulations you faced to get where you are?
"Immigrant parents. They were my biggest support system but also my biggest tribulation because, well… insanity."
Life for Kelly hasn't been a crystal stair. She has faced several obstacles getting where she is. Part of those struggles come from constant pressure from her parents to be on top of everything. 
"When my father thinks of a problem, he thinks of having to walk to school for two miles without shoes, getting constantly jumped by bullies for not knowing English. When I think of a problem, I think of my shoes being untied. And although it is true that I am really privileged and know having untied shoes is not a valid issue, I have struggled with mental health. My parents, on the other hand, never really got to understand that struggle because they were too unprivileged and busy trying to live, never focusing on their mentality. And while I know I'm not walking on mud trying to get to school everyday, I still struggle in other ways."
Where do you see yourself in 10 years from now?
"I might be living off of Ramen for a bit."
Kelly personally believes that her future is bright, but it's not going to be a quick progression to the light. She says that although she might be a little bit broke, she hopes that she'll be happy because she is out of the house, is gaining new experiences, maturing, and has a sense of freedom to be whoever she wants to be. She aspires that in the next ten years, she will graduate college and hopefully have a job at Microsoft. She also wants to keep writing poetry and enter poetry contests for the fun of it. But overall, Kelly just wants to be happy. 
What is your greatest achievement thus far and why?
"My greatest achievement is being a person that my friends can depend on."
"
I think all you ever are in life is what you are to other people, such as to my friend Denis Jean Baptiste, I'm a friend who I hope he can depend on. That is what makes me special, not anything else. What makes me special is how other people feel around me.
— Kelly, on her greatest achievement
What is your greatest failure?
" *jokingly* I'm never wrong… so, next question."
Kelly admits her greatest mistake here, and it's not having any self-love. This, she says, is part of who she is; relying on other people's perception of whether or not they love her to determine if she should love herself. It's a hard mindset, but it's a mindset a lot of people have. 
I would like to highlight one of Kelly's roles: Secretary of Islip Town Branch's NAACP Youth Council. How did she become secretary? Kelly explained that she was originally told by her boyfriend at the time, and president of the council, Ryan Antwi, "Hey, you are my secretary." Just like that, she got the position in the council, adding one more thing to her resume. Kelly says that it's fun having this position and being able to work with her three closest friends, Ryan, Chrysnell, and Denis. She also says it's super important to stand up for the oppression that goes on against Black people in America, which I think everyone can agree on, so shout out the Islip Town Branch's NAACP Youth Council. 
How do you manage to stay on top of  everything?
"Communication is really the big one."
With so much in her schedule, one must ask how does she stay on top of it? Kelly says it's through a combination of understanding and communicating. Kelly definitely does make an effort to commit to what she is given, but at times, she has too much to bear. Instead of being quiet about it, however, she tells people where and what she is doing in advance. Luckily, Kelly has some great advisors and works with people that understand all the things and positions she holds, allowing her to sacrifice a bit to stay well-rounded. 
What do you say is the key to success?
"'Fake it till you make it.' It's a cliche but it's true. If you need yourself to keep going, just keep saying you are going to be alright."
Recently, it was announced that Kelly has won Amazon's Future Engineer Scholarship, giving her $40,000 in paid tuition to attend any college of their choice and a paid internship at Amazon after their freshman year. This incredible feat was not done overnight; it took years in the making and several days of hard work. She also had several role models to guide her along the way, especially Mr. Ehrhardt. To anyone saying CI is a horrible town, take a look at what the daughter of Haitian immigrants is able to do here. She was also interviewed by PIX11 News about this momentous achievement, so if you want to check that out, check out the link.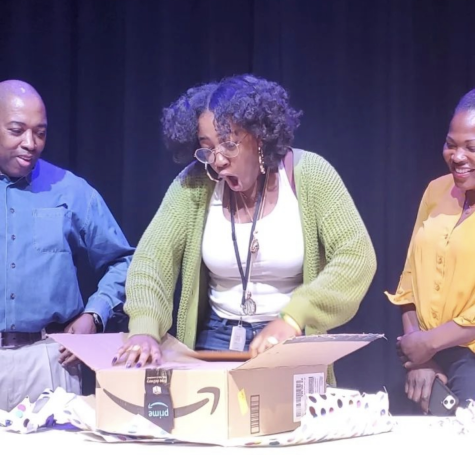 https://pix11.com/news/local-news/long-island/long-island-valedictorian-receives-40000-scholarship-from-amazon/ 
 "I want people to remember me as someone who loved them, and someone who helped them, and someone who made them feel better when they were not doing well"
There is no denying that Kelly is going down the books as a Legend of CI. Her incredible work-ethic and personality is guaranteed to take her far in life and take her to places people can only dream of going. She has definitely left a mark on the community, one that is going to be hard to outshine by future CI students. Kelly is a role model to people, hopefully not just in CI, but around the world by showing them that they should do as much as they can with the opportunities put out in front of them. As she ends the interview, she simply tells people a simple truth: "Follow what is in your heart."