The Day of Glory: CI's Homecoming Game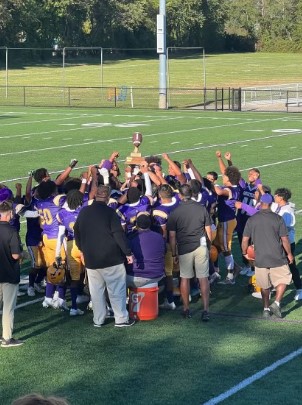 This Saturday, September 24th,  Central Islip community members filled the home team's stands to watch their high school football team play their homecoming game against a rival town; Brentwood. Right from start, the home fans brought the energy; cheering and making noise as the game kicked off. The first half was uneventful as a whole, save for one play in the closing seconds of the first half. Looking for the lead going into the half, Brentwood quarterback launched a 50/50 ball to a 1 on 1 matchup down the field. The Brentwood receiver was about a foot taller than the CI defender, and it was hard not to see this going Brentwood's way. When both players leaped up, and our defender cleanly intercepted the pass, the whole place went crazy. Not only did this player show us that heart is over height, but he saved a potential touchdown and gave CI great momentum going into the half.
As halftime ended, the CI Marching Band took the field and gave everyone watching a great performance! With additional performances by the CI Color Guard and CI Cheerleading squad, halftime was filled with energetic cheering.
Following a great show, the Musketeers took the field ready to tackle what would be a tell-tale second half. CI started off strong, reaching the endzone on a 20+ yard dump off pass to running back Ryan Antwi; a missed extra point made the score 6-0. Flashforward a bit, and it's now 7-6 in favor of Brentwood. Looking for a winning score, the CI offense took the field but a costly fumble recovered by Brentwood ended our drive short. With the clock ticking down to 4 minutes the CI defense recovered the ball, setting up what is most likely our last chance at a homecoming win. As the same player who fumbled earlier took the field, a family member of the player called out from the stands "you owe us one!"  With half a field between us and the endzone the same player got a short pass and carved through the defense for about a 35 yard gain, giving us excellent field position to potentially close out the game. On the backs of a gritty offensive line and a determined running back CI punched in the ball leaving just a minute on the clock. The home stands were filled with cheering and hope, and we were ready to defend our 12-7 score to win the game. A desperate Brentwood offense tried and failed to muster a winning drive as a CI defender picked off the ball, ending the game. The crowd was ecstatic, and you could see how much this win mattered to players and fans alike. This week it felt good to be a part of the purple and gold.