Free COVID tests!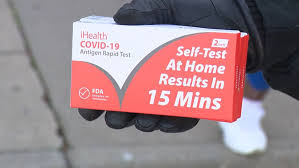 Many of us have experienced the frustration of waiting on line to get a COVID test, or worse, not being able to get a test at all. There are now two ways for you to get free test kits to use at home.
You can get a test kit from the school by having your parent or guardian go to the Buildings and Grounds office weekdays between 10 am and 2 pm. That office is located in the portable buildings behind Alfano Elementary School. If it is not possible for you to get there during those times, you can email Mr. Weiner to make arrangements to receive a kit. He can be reached at [email protected]
Another way to get test kits at your home is to order them from the United States Post Office.  Each residence can receive one order of 4 individual rapid antigen COVID 19 tests. Orders will begin shipping at the end of January and are completely free.
You can use this link to order: https://special.usps.com/testkits