The Thunberg Effect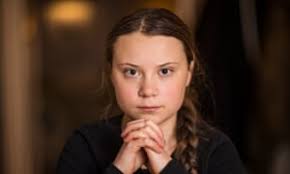 In light of recent events, Greta Thunberg has become quite famous for being a climate activist. Thunberg has inspired many students to fight for environmental change. As one of these inspired students, I can say that she has made me feel like I haven't done enough. Though I am a member of our chapter of Keep Islip Clean (KIC), I feel like there is more that I can do to benefit the environment.
For those of you who do not know, Greta has Aspergers Syndrome which causes difficulties in social interaction and nonverbal communication. She does not see this as a disability and says that is like having a superpower that allows her to protest without regard to the constant eyes on her. Thunberg's perspective and ability to reach so many lives in spite of her challenges is truly inspiring. Though she is merely an adolescent like you and I, she chooses to  use her voice to bring about change. In her recent speech at the UN Climate Action Summit, Thunberg constantly questions, "How dare you?" You know what? She is right; how dare we continue to live knowing that we are single-handedly destroying ecosystems for our personal gain.
Thunberg is right to question all of humanity. We expect the world to give us what we continue to give it pollution. We need to change. Our future depends on us to fight for what is right. Let's take a stand and try to make up for years of maltreatment. Together we can go against the social norms and live an eco-friendly life that will benefit not only us, but all the inhabitants of this planet.